Ardepte (Association de recherche des disparus Tunisiens à l'Etranger) is an association for social advancement created in 2010/2011.
It is a non-lucrative and non-governmental association.
Since 2016, Adepte has been working with Libera to shed a light on the case of 10 Tunisians having disappeared in the Mediterranean Sea as they were trying to reach Italy. These persons, undertaking this illegal journey, without a passport, without an identity, are called « harragua ».
Since 2011, the number of young Tunisians having left the country towards Lampedusa island never ceased to change : 16.000, 25.000, 38.000 .. Nothing has never been confirmed.
For them, Lampedusa represented the nearest Italian city, a city where starting over a new life would be possible, where they could have a honorable future, where they could be free, dignified.
Unfortunately, reality proved to be different : it was a huge disappointment for them, an immeasurable pain for their families, their mothers who have lost the trace of their sons, now said to have « disappeared »
Therefore, Adepte and Libera joined together in order to help these mothers to discover the truth about these disappearances. Willingly, seriously, humanly, we tried to discover the truth behind the silence surrounding the disappearances, trying to know if mafias could be behind them, taking advantage of their fragile situation to manipulate the young Tunisians.
To tell their story, multiple meetings between Libera and the victims' relatives took place in Tunisia.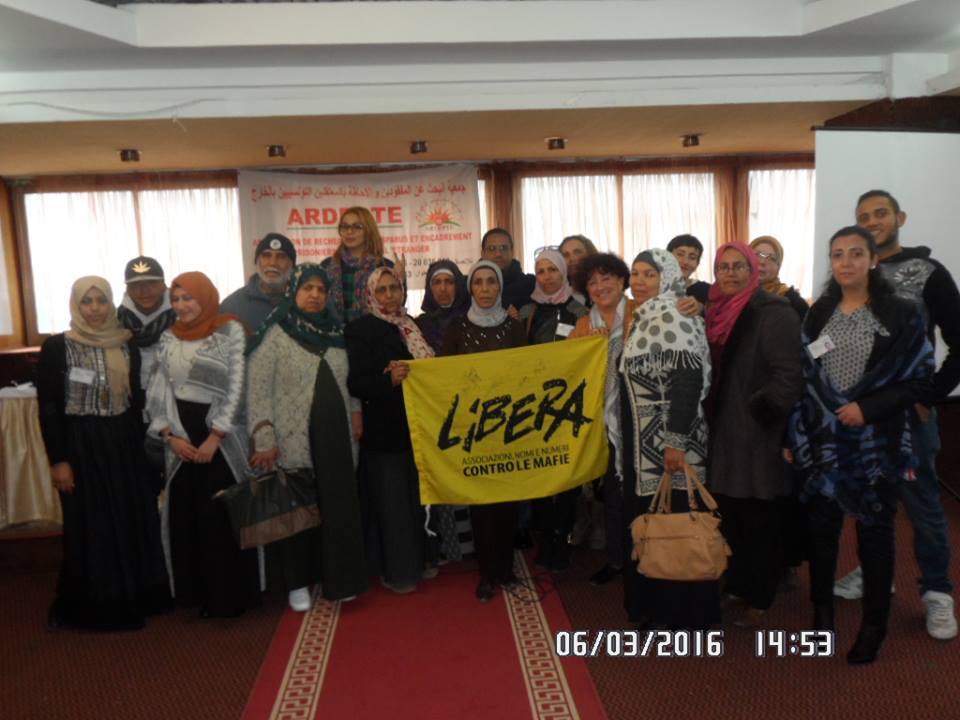 Libera in Tunisia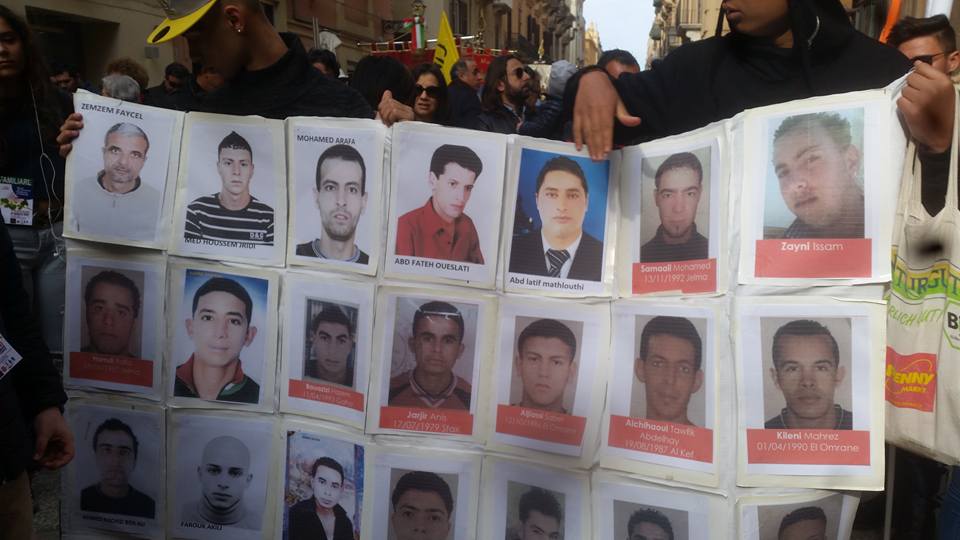 Some of the disappeared in 2012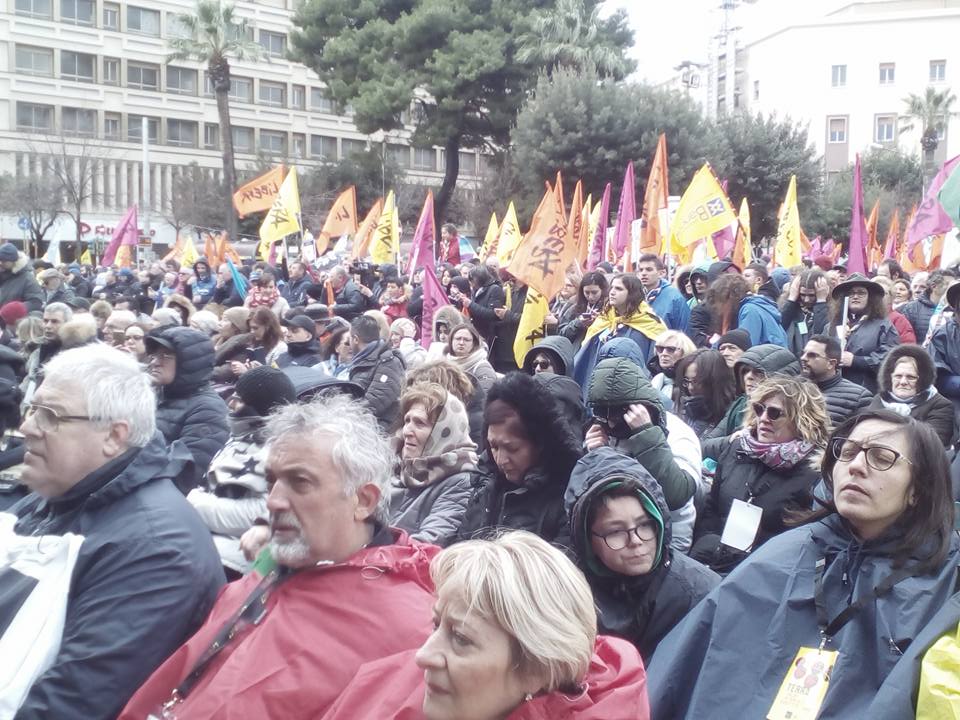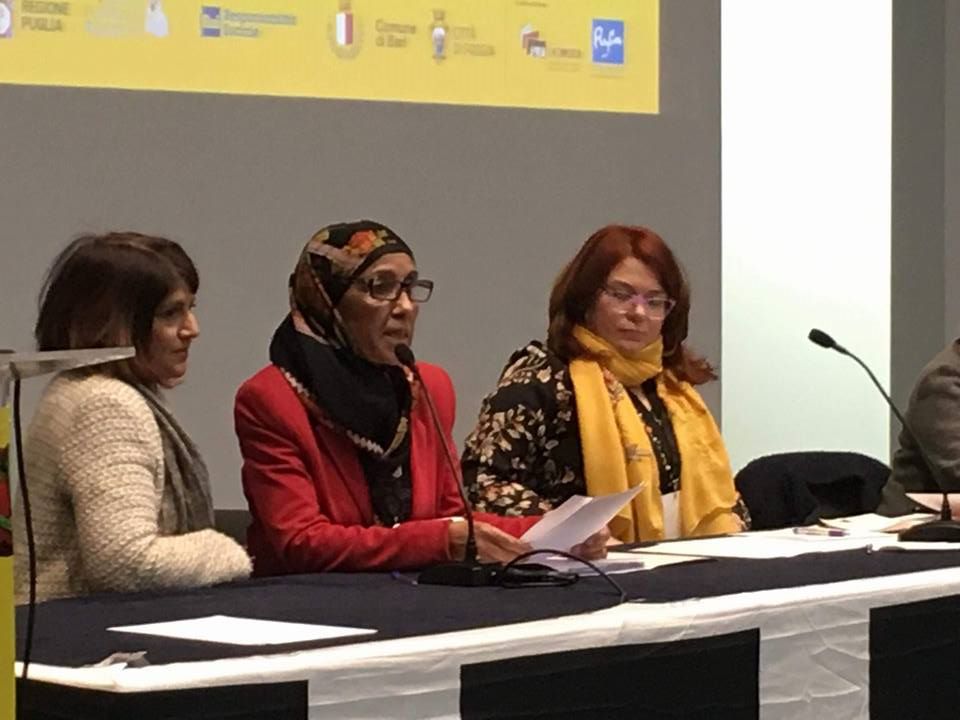 Bari and Foggia in 2018
In 2018, for the Day of Memory and Commitment for mafias innocent victims that took place in Foggia and in Bari, testimonies were presented by Halima Aissa, president of Ardepte, to ensure that the mothers' voices was heard by the public and the medias.
Why did these young Tunisians decide to leave the country ?
According to their families, above all their mothers, their departure is attributable to the political, economic, social context of Tunisia after the 14th of January 2011, the day in which the revolution started.
This revolution was seen and lived by the Tunisians as a benchmark in their history : they believed in a radical change, thought that an economic growth would follow this revolution and make their lives better. Nevertheless, reality was different : economic, social and security difficulties happened, as well as unemployment, corruption, drug's diffusion, money laundering…
The explosive growth of these phenomena pushed the young Tunisians to consider migration, hoping for a better future.
Given the refusal of the countries to welcome them, including Italy who requested a visa, illegal migration became the better opportunity for them, although it was considerably dangerous : crossing the sea was done on a small boat, carrying twice its capacity and for a high price.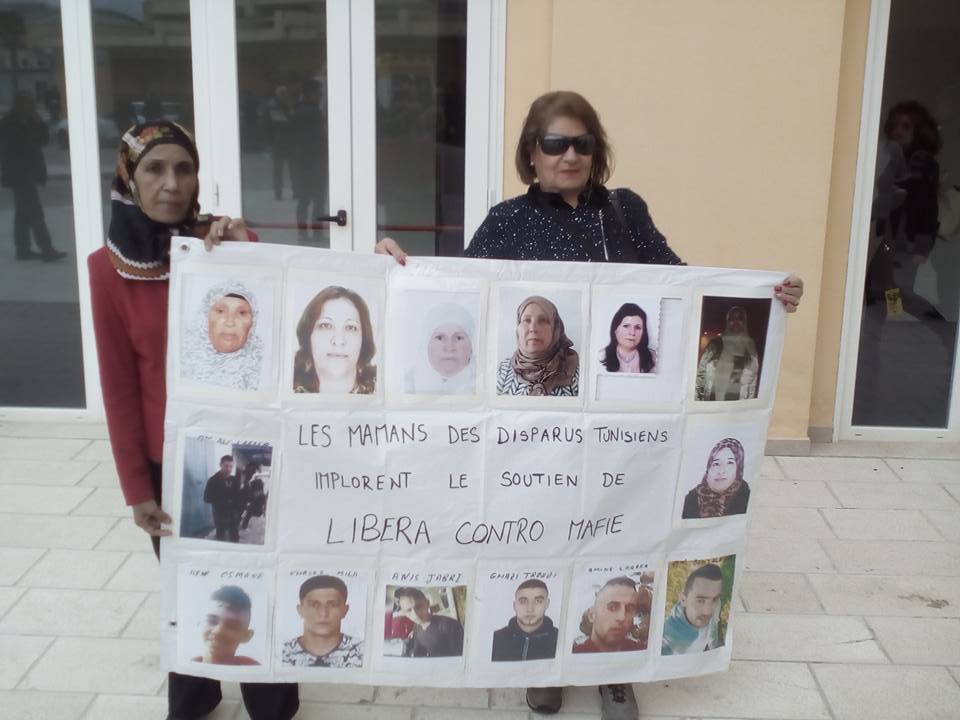 Mothers of innocent mafias victims give their support to the Tunisian mothers
_________________
FRENCH VERSION
Mémoire Méditerranée
Ardepte – Libera contro le mafie
Ardepte (Association de recherche des disparus Tunisiens à l'Etranger) est une association de promotion sociale créée en 2010-2011.
C'est une association non-gouvernementale à caractère non lucratif.
Depuis 2016, Ardepte collabore avec Libera dans le but de faire la lumière sur la question des dix Tunisiens disparus dans la Méditerranée lors de leur traversée vers l'Italie. Ces personnes qui entreprennent ce voyage illégal, sans passeport, sans identité, sont appelées « harragua ».
Depuis 2011, le nombre de jeunes Tunisiens ayant quitté le pays vers Lampedusa ne cesse de changer : 16.000, 25.000, 38.000 … Rien n'est sûr.
Lampedusa représente pour eux la ville d'Italie la plus proche, une ville où il sera possible de recommencer une nouvelle vie, de se construire un futur honorable, d'accéder à la liberté, la dignité, aux droits de l'Homme. Hélas, la réalité s'est avérée bien différente : déception pour les jeunes partants, pour les familles, douleur immense pour les mamans qui ont perdu toute trace, toute information, toute nouvelles de leur fils, désormais considérés comme « disparus ».
Ainsi, Ardepte et Libera se sont réunies, afin d'aider ces mères à découvrir la vérité sur ces disparitions. Avec sérieux, humanité, volonté, nous avons cherché à déchiffrer le silence qui entourent ces disparitions  , cherchant également à savoir si les mafias auraient pu mettre la main sur ces jeunes Tunisiens et profiter de leur situation précaire pour les manipuler.
Pour raconter leur histoire, plusieurs rencontres entre Libera et les familles des victimes ont eu lieu en Tunisie.
En 2018, à l'occasion de la Journée pour la Mémoire et l'Engagement pour les victimes innocentes des mafias qui a eu lieu à Foggia, et à Bari, des témoignages ont été présentés par Halima Aissa, présidente de l'association Ardepte, afin de faire entendre la voix des mamans des disparus Tunisiens aux personnes présentes et à une audience plus large via les médias présents.
Pourquoi les jeunes Tunisiens ont-ils décidé de quitter le pays ?
Selon les témoignages de leurs parents, et surtout de leurs mères, leur départ est dû au contexte politique, économique et social dans lequel s'est retrouvée la Tunisie après le 14 Janvier 2011, date de la révolution civile. Cette révolution a été vécue par les jeunes Tunisiens comme un tournant dans l'histoire du pays : ils croyaient en un changement radical, et pensaient que succèderaient à cette révolution un développement économique qui allait changer leur vie, la rendre meilleure. Néanmoins, la réalité fut tout autre : les difficultés économiques, sociales et sécuritaires se succédèrent, ainsi que le chômage, la corruption, la diffusion de la drogue, les blanchiments d'argent etc.
L'explosion de ces phénomènes poussa ces jeunes à se tourner vers l'immigration dans l'espoir de s'assurer un avenir meilleur.
Face au refus des pays de les accueillir, notamment l'Italie qui exigeait un visa, la migration illégale devint pour eux le meilleur choix, bien qu'accompagné d'énormes risques de mort : la traversée se faisait à bord de petits bateaux transportant le double de leur capacité réelle, à un prix élevé.