In the context of a 'criminal economy' dictated by the laws of supply and demand, organized crime is actually fostered by a social tolerance for certain types of crime.
This context continues to shape organised crime :  criminals and criminal groups, without forgetting the 'grey zone', are quickly adapting to exploit new partnerships and victims, to evade countermeasures or to identify new criminals opportunities.
The role of Libera is mainly to contribute to the understanding of these dynamics in order to learn and to see how this phenomenon is diffused.
In the new Statute of Libera (2015), it has been formally included for the first time the international dimension of Libera's network. Since then, the transnational action of promotion of social justice and human rights has been recognized worldwide as well as fighting against mafias and corruption.
Libera in Europe bases its action on two branches: networking and social activities to foster a six point agenda related to our activities in Europe and within the European Union. Libera in Europe began its mission in 2008 in the aim of coordinating, at the continental level, the efforts of numerous activists within civil society promoting democratic legality.
We work for the enforcement of a network in order to come to a  cooperation between various civil society organisations that fight against mafias and organised crime. We want to build  a network able to exert social pressure on legislative processes at the local and European level, to organise awareness campaigns, and to foster partnerships between members organisations through the pursuit of commmon projects and the exchange of innovative practices and knowledge.
 O R G AN I Z E D    C I V I L   S O C I E T Y

Libera represents more than 1 600 associations and social realities of which 370 antennas are scattered accross the Italian territory.
The 'we' of Libera also has a geographical meaning as there always will be a 'beyond' and an 'elsewhere' to be reached by the fight against mafias and corruption.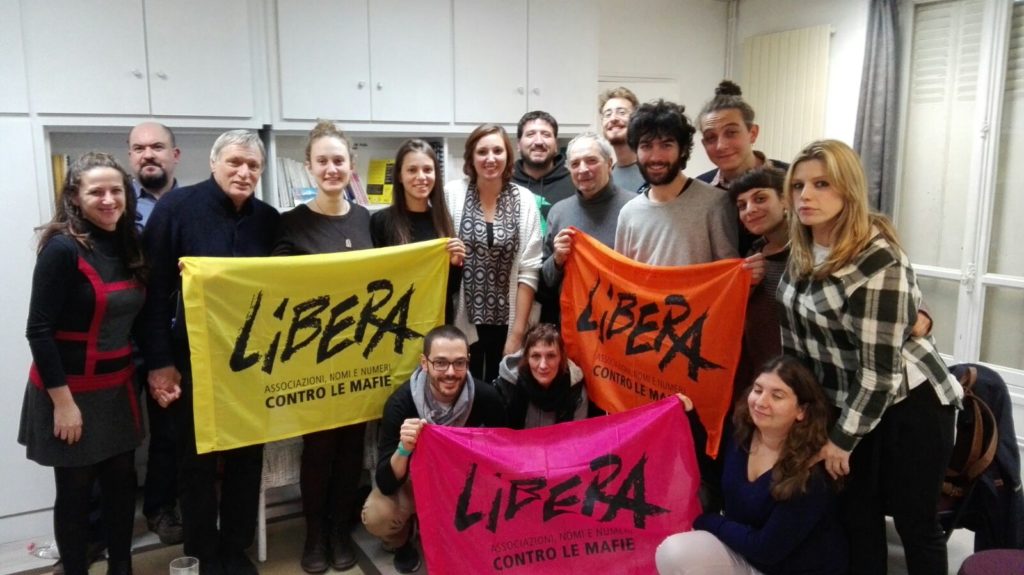 Libera's international co-action is not based on the creation of new Libera's offices, but on the construction of  transnational networks composed by different local, national and international social realities. We are especially working with Latin America, Africa and Europe.
As Libera, we don't act directly on the frontline in case of emergency: our work is most importantly revolved around the understanding of the problem at its root, but also the social, economic and political context in which organized crime establish its roots, transforming human lives in traded commodity.
We also work on :
Networking
Education
Advocacy
Projects and exchange of good practices
Simultaneoulsy, over time, a few informal groups and associations in line with Libera's actions abroad spontaneously appeared, such as :
Kolibrie : Kolibrie is a Belgian antimafia association, working alongside Libera, Associations, Names and Numbers, and fighting against mafias, corruption …  Their name, meaning "hummingbird" , is a symbol of liberty and of perseverance in their fight and commitment;
Amici di Libera In Svizzera : It is a non-profit organization created in 2012 in Neuchâtel, in the French-speaking part of Switzerland. One of its main goal is to create a space for discussion, information and debate aimed at raising awareness among the Swiss civil society about the threats of mafias. For more information, click here.
Demains Libres(Marseille, Strasbourg, Paris): DeMains Libres is a French association of social antimafia, working alongside Libera, Associations, Names and Numbers. One of its main objectives is a french law about the social reuse of confiscated assets.

Mafia? Nein danke! :  Mafia ? Nein Dake! is a German association founded in Berlin from the initiative of a consortium of restaurant owners who wanted to react to the picture media gave of Italy as a plate of spaghetti accompanied by a gun which followed the Duisburg massacre. The objective of the association is to combat the stereotypes on mafias and to spread a real understanding of the phenomenon. For more information, click here.
Eine Weet e.V. Leipzig : It is a German association based in Leipzig founded in October 1990. Its aim is to promote the responsibility for cultural, social, economic and environmental issues concerning the "third" world. For more information, click here.
What about policy-making?
As defined in the UN Convention of Palermo (2000), the EU's Council Framework Decision 2008/841/JHA of 24 October 2008 has adopted the same definition of an 'organised criminal group' (OCG):
"A group of 3 or more persons existing over a period of time acting in concert with the aim of committing crimes for financial or material benefit".
However, this definition does not adequately describe the complex and flexible nature of modern organised crime networks.
"We work for the enforcement of a network aimed at cooperation between various organisations of civil society that fight against the Mafia systems and those that are opposed to organised transnational crime."
Arising from the efforts of Libera and Terra del Fuoco, FLARE – Freedom Legality And Rights in Europe- was created in June 2008 with the aim of coordinating at continental level the efforts of numerous actors within civil society that are in favor of democratic legality.
FLARE was an independent network which has worked for social pressure on legislative processes at the local and European level, to organize awareness campaigns, and to foster partnerships between member organizations through the pursuit of joint projects and the exchange of innovative practices and knowledge.
From the intuition of creating a more unified movement in Europe, FLARE has been a formal network with an independent and vertical structure. Thanks to its coordination, it has been possible for Libera to begin to promote the social fight against organized crime at European level.   However it has been progressively more clear that FLARE's rigid frame was an obstacle to develop the creation of a real participatory and circular process of European civil society. When it became clear that there wasn't a potential for convergence anymore , Libera decided to take a step back and to redesign an European participatory process through informal paths and a network rethought from below.
This remodulation has been driven by Latin American experience of Libera in the creation of ALAS – America Latina Alternativa Social: an informal network gathering together more than 40 organisations from 12 countries from all over Central and South America.
Since September 2016, after a change of direction in the internal organization of the International sector of Libera, we are working on the reconstruction of our European network.
In particular, we began to meet important partners of Libera to restart a common way of work:
firstly, with Italian antennas of Libera in Europe;
secondly, with Anti-mafia organizations.
We are working on the creation of a new European network composed by associations, NGOs, antennas (founded by the Italian citizens living abroad) and local entities which are committed in the promotion of social justice, fighting against organised crime and corruption.
In line with this, we have organised:
"Libera in Europe" – 1st meeting in Paris (November 2016)
"Libera in Europe" – 2nd meeting in Berlin (February 2017)
Together with all organizations and realities we are working with, we are rethinking a common agenda of goals, in accordance with our specific mission as Libera.