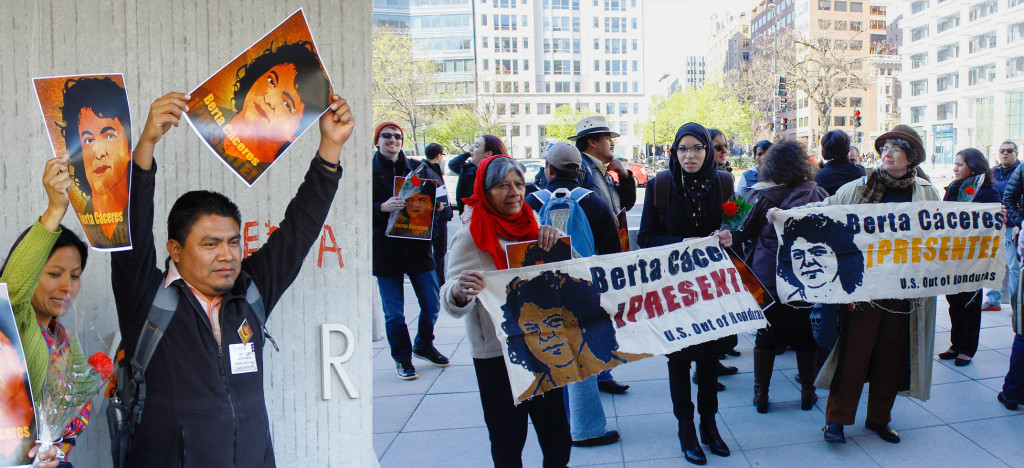 It has been more than three months since Berta Cáceres, the renowned Honduran environmental and indigenous rights activist, was murdered.
Since her tragic death, there has been a wave of international solidarity to fight for justice for Berta. LAWG and countless other organizations, social movements, and activists from around the world have joined together in support of justice in Honduras.
The Civic Council of Popular and Indigenous Organizations of Honduras (COPINH), the indigenous Lenca organization that Berta led before her death, has issued a call for a Global Day of Action Demanding Justice for Berta on June 15, 2016.

Today, COPINH is calling for a worldwide protest that will bring all of our voices together to demand justice for Berta Cáceres; justice for Nelson García, another active member of COPINH murdered just two weeks after Berta; justice for COPINH; and justice for the people of Honduras.
Berta's family members and fellow COPINH activists are continuing to call for an independent investigation with experts chosen by the Inter-American Commission on Human Rights (IACHR). The Honduran government has not responded to this request. In addition, the Ministerio Público has continually failed to keep Berta Caceres' family and members of COPINH updated on the case as is legally required.
So far, five suspects have been arrested. They are believed to be the hitman and intermediates, but not the intellectual authors who ordered Berta's murder. It is crucial to continue pressing for a transparent, thorough, and comprehensive investigation of the intellectual authors.
On this Global Day of Action Demanding Justice for Berta, we call for:
The immediate establishment of an independent group of experts led by the Inter-American Commission on Human Rights.
The investigation of the intellectual authors who ordered the murder of Berta Cáceres.
The Ministerio Publico in Honduras to grant access to information about progress in the case to Berta's family and COPINH colleagues.
The immediate and definitive cancellation of the concession granted to DESA company, constructor of the Hydroelectric Project "Agua Zarca" in Rio Blanco.
Join us as we call for #JusticeForBerta
and show solidarity with Berta's family,
colleagues, and the global community of activists
fighting for justice in Honduras.
See the orginal article in Latin America Working Group website