Mafia?Nein danke! is an association which was founded in Berlin from the initiative of a consortium of restaurant owners who wanted to react to the picture media gave of Italy as a plate of spaghetti accompanied by a gun which followed the Duisburg massacre.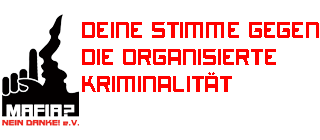 From 2008 the association is formally establish as a non-profit as of its statutes. The objective of the association is to combat the stereotypes on mafia and to spread a real understanding of the phenomenon, as well as to contrast political negationism. Currently the main activities of the associations are conventions, workshops, readings, support to reporting journalists and cultural events aimed at raising awareness among the German public, but not only. Mafia Nein Danke regularly organises activities in secondary schools, particularly in the bilingual schools of the city, and cooperates with the university.
Also, the association is a contact point between the local institutions, mainly the police from the Berlin Land, decision makers and civil society, with the aim of becoming a coordination centre for other similar initiatives spread all over the country to discuss the topic of mafias in Germany and to contrast them also on the international level, through an harmonised European legislation.
Contacts: Sandro Mattioli
E-mail address: info@mafianeindanke.de