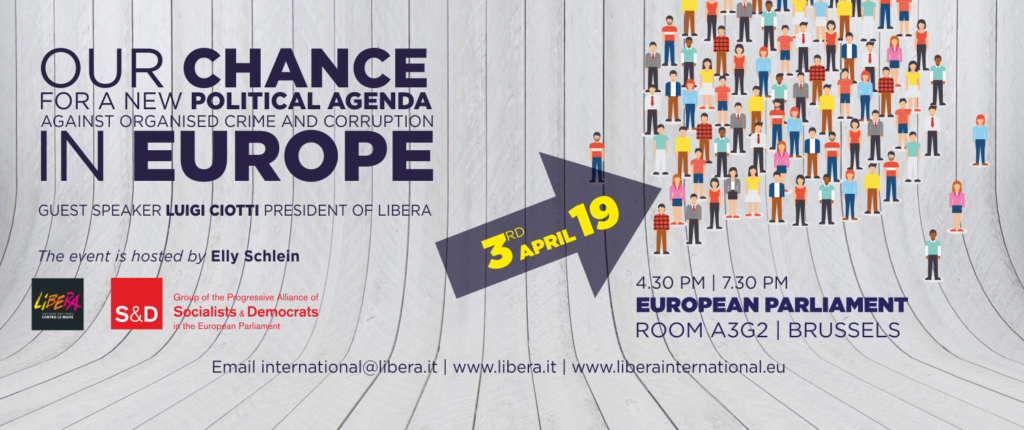 Civil Hub Against orgaNised Crime in Europe / C.H.A.N.C.E.

In view of the next mandate of the European Parliament, Libera presents the new Political Agenda, promoted in synergy with CHANCE, Civil Hub Against orgaNised Crime in Europe – the emerging social network established in Europe thanks to the commitment of many realities and associations joined by the will to build with Libera paths of social justice, that go beyond national borders.
Through the initiative "'Our CHANCE for a new political agenda against organised crime and corruption in Europe", the role of civil society in the fight against the mafia and corrupted systems at a transnational level will be relaunched and the contribution that an active and vigilant citizenship can give in coordination with the institutional bodies in charge will be reflected on. Together with representatives of the European institutions, magistrates, activists and academics, different specific themes will be addressed: from a conceptual redefinition of "organized crime", to the current proposals on confiscation, from the fight against corruption to strategies aimed at protecting the victims of criminal violence.
The meeting will be on April 3 from 16.30 to 19.30 at the European Parliament, room A3G2, with the presence of Luigi Ciotti, founder and president of LIBERA.
On the eve of the start of the IXth Legislature of the European Parliament, we believe it is necessary to focus on the analysis of the social and cultural context in Europe and, above all, on the proposals for possible new scenarios to be built at transnational level in the field of social security and social justice. Twenty years after the Palermo Convention of the United Nations, it is necessary to stop and ask ourself how far Europe has come in the fight against organized crime, with a due reflection and evaluation of the important instruments put in place in the meantime, such as Directive 2014/42, on the freezing and confiscation of instrumental property and the proceeds of crime, and Directive 2018/843, on the prevention of the use of financial system for money laundering. Libera has always been convinced that, in addition to repressive action, a greater involvement of civil society should be sought – a principle reiterated during the XI session of the Conference on the United Nations Convention against Transnational Organized Crime – supporting the complaints and the clarity of information, in order to vigorously implement the Palermo Convention.
On this occasion, the project LIBERA Idee in Europa will also be presented. This project has already begun in Italy and its aim is to offer a current and shared re-reading of the perception of the criminal phenomenon and the corruption abroad.
The event is co-promoted by MP Elly Schlein, S&D, Possible and co-chairman of the ITCO Intergroup – Integrity, Transparency, Corruption and Organised Crime.
The event ran out of places.

For more information, please contact: international@libera.it
---
(FR)
Libera présente le réseau CHANCE
En attendant le prochain mandat du Parlement Européenne, Libera présente la nouvelle Agenda Politique, promu en synergie avec CHANCE, Civil Hub Against orgaNised Crime in Europe – le nouveau réseau social établi en Europe grâce à l'engagement de nombreuses réalités et associations, unies par la même volonté de construire avec Libera des chemins de justice sociale, qui dépassent les frontières nationales
À travers l'évènement 'Our CHANCE for a new political agenda against organised crime and corruption in Europe', sera relancé le rôle de la société civile dans la lutte contre le système mafieuse et corrompus au niveau transnational et une réflexion sera faite sur la contribution qu'une citoyenneté active et vigilant peut apporter en coordination avec les organes institutionnels en charge. En collaboration avec des représentants des institutions européennes, des magistrats, des militants et des universitaires, différents thèmes spécifiques seront abordés : de la redéfinition conceptuelle de la "criminalité organisée" aux propositions actuelles sur la confiscation, de la lutte contre la corruption aux stratégies visant à protéger les victimes de la violence criminelle.
Rendez-vous le 3 avril de 16h30 à 19h30 au Parlement Européen, salle A3G2, en présence de Luigi Ciotti, fondateur et président de LIBERA.
À la veille du début de la XI législature du Parlement Européenne, nous croyons soit nécessaire de s'attarder sur l'analyse du contexte sociale et culturelle en Europe et surtout sur les propositions de nouveaux scénarios possibles à construire, au niveau transnational sur les thèmes de sécurité et justice sociale. Vingt ans après la Convention de Palerme des Nations Unies, il faut s'arrêter et se demander où est l'Europe dans la lutte contre la criminalité organisée, avec une réflexion et une évaluation appropriées des instruments actuellement disponibles, comme la directive 2014/42 sur le gel et la confiscation des biens mobiliers et des produits du crime, et la directive 2018/843 sur la prévention de l'utilisation du système financier pour le blanchiment de capitaux. Libera a toujours cru que, ensemble à l'action répressive, il faut rechercher une participation major de la société civile – principe réaffirmé lors de la IX session de la Conférence sur la Convention des Nations Unies contre la criminalité transnationale organisée – à travers le soutien pendant les dénonciations et la clarté de l'information, afin de mettre vigoureusement en œuvre la Convention de Palerme.
Pendant cette occasion, sera aussi présenté le projet LIBERA Idee en Europe, déjà commencé en Italie et qui vise à offrir une relecture actuelle et partagée de la perception du phénomène criminel et corrompu à l'étranger également.
L'évènement est co-promu ensemble à l'eurodéputée Elly Schlein, S&D, possible et co-présidente de l'intergroupe ITCO – intégrité, transparence, corruption et criminalité organisée.
Pour plusieurs informations, écrire à : international@libera.it