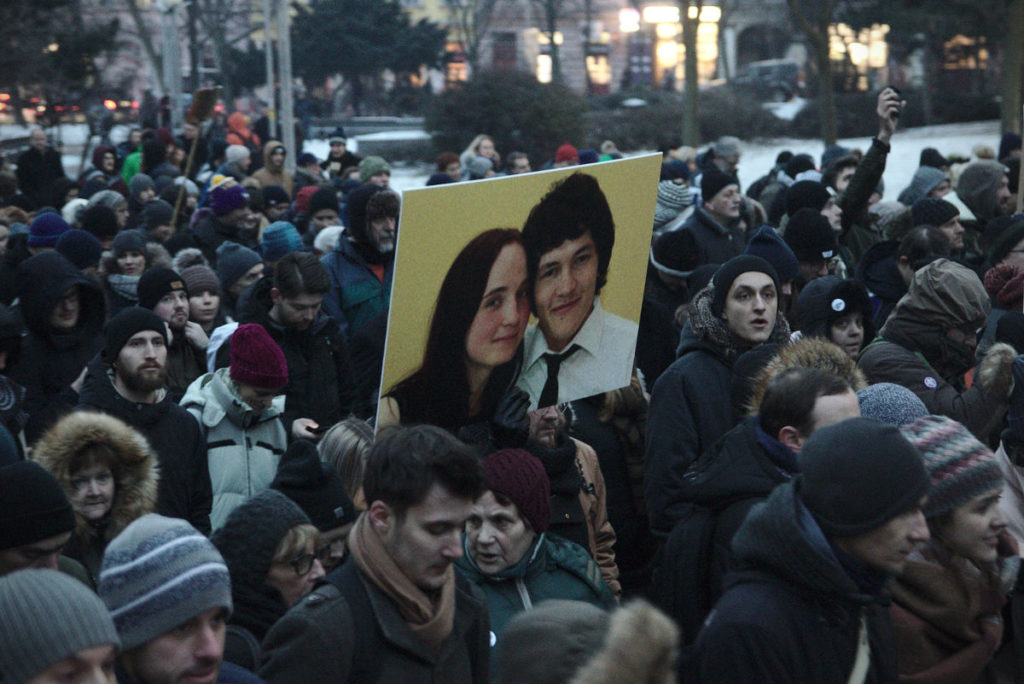 The offer was straightforward and financially attractive: Kill a man in return for 50,000 euros in cash and the forgiveness of more than 20,000 euros in debt. Zoltán Andruskó, a Slovak pizzeria operator, quickly accepted – a decision that forever changed both his life and the history of Slovakia.
The woman Andruskó said offered the deal was Alena Zsuzsová, an Italian translator and fixer who worked for one of Slovakia's richest men, Marián Kočner. Sitting together in a car outside her house, Zsuzsová gave Andruskó the details: a name, a couple of photos, and a home address. It was all he needed.
The target was Aktuality.sk reporter Ján Kuciak. Zoltán Andruskó asked a friend for help, a former police officer named Tomáš Szabo, and recruited a resourceful cousin, Miroslav Marček, an athletic former soldier.
Szabo and Marček first visited the house of Kuciak and Kušnírová in Velká Mača in the afternoon of Monday, Feb. 5, 2018, driving a white Peugeot 206. The recently bought house proved to be an ideal location for a murder. It was outside the city center, bordered a dense forest, and had a good road to a highway. There were no obvious surveillance cameras on the street.
On the following night, Feb. 16, the men arrived in Velká Mača in the white Peugeot at 6:49 p.m. Szabo walked to Kuciak's house and returned to the pick-up point 20 minutes later.
To further obscure their identities, the men decided to use "burners," cheap mobile phones they could toss after a single use. The next day they bought two, using a middleman to avoid Slovakia's registration requirements.
The men made one final visit for reconnaissance. Shortly before 7 p.m. on Feb. 19, Szabo walked around the football field toward the couple's house at Brezova 558. It should have taken just a few minutes, but Szabo didn't hurry, perhaps checking possible escape routes. About 20 minutes later, he dialed Marček on his burner phone, let it ring once, and hung up. Marček soon picked him up in a silver Citroen Berlingo.
Ján and Martina's Last Day
Neither Ján nor Martina, both 27, had noticed the surveillance or had any idea they were being targeted. The story Ján was working on with OCCRP — an investigation into how the Italian 'Ndrangheta mafia infiltrated his country — involved dangerous figures, but so far he had simply been requesting public records and doing research online.
The couple also had a lot on their minds. Their wedding was coming up in early May, and they were busy with preparations. The last text messages and phone calls they exchanged with their families were about the celebration. Ján had just discussed the labeling of the wine bottles with his mother.
They were also refurbishing and outfitting their new home, visiting pawn shops to pick up items like a vintage '60s television set and an old post office table.
s the couple planned a quiet night at home on that Wednesday, Feb. 21, Szabo and Marček met at 4:40 p.m., climbed into the Citroen Berlingo, and drove towards Velká Mača, avoiding many of the town's surveillance cameras. They switched off their personal phones and turned on their burners.
Marček, the former soldier, stopped the car near the football field at 6:28 p.m. Szabo, wearing black, stepped out into the cold evening.
He took his burner phone and Luger. The weapon was fitted with a silencer and loaded with the modified, quieter ammunition. At 6:31 p.m. he headed toward the couple's house. Unexpectedly, they weren't home.
Ján had returned from Bratislava by train as usual, but his car battery had died and Martina had to go pick him up. They got home at about 7:30 p.m. By then it was dark, and the couple settled in to make some tea. Martina planned to call her mother to talk about their project to create a historical narrative of her home village of Gregorovce.
Szabo was waiting nearby. At 8:21 p.m., he entered the yard and walked in the front door, which was never locked. In the kitchen, he saw Martina and shot her once between the eyes. She dropped to the floor.
Ján, who was in the basement, heard the shot and climbed the stairs. Szabo was ready. He fired two bullets into his chest, near his heart, and the young journalist collapsed on the stairs. Szabo stood so close that the barrel of the silencer left burns on his victim's chest.
The attackers drove to Andruskó's house in Kolarovo to tell him the job was done and to get their money. When Andruskó heard that a woman had also been killed, he said it shouldn't have happened. It wasn't part of the plan. Nevertheless, he promised to deliver the money soon.
The Payoff
The next day, Andruskó met Zsuzsová, the woman who allegedly ordered the killing, in a parked car in front of her house. There had been a complication, he said: a second murder. Zsuzsová became agitated, yelling that it was "impossible." Still, she later called Andruskó to have him pick up his payment. The 50,000 euros were delivered in a stack of 500's wrapped in a napkin. Andruskó kept 10,000 and divided the rest between his accomplices.
Zsuzsová's motives for ordering Ján's killing are unknown; he had never written about her. But she worked for Marian Kočner, a prominent businessman about whom Ján had written extensively. Andruskó would later tell police that Zsuzsová told him that Kočner paid for the killing.
Kočner has not been charged in connection with the murders, though he has been detained for the same financial crimes Ján had written about.
The Search for Justice
When word of the murders broke, Slovaks were shocked.
Within days, the biggest protests since the fall of communism broke out across the country. Tens of thousands of citizens demanded an independent investigation and decried the influence of organized crime that Ján had exposed.
The killings filled the news for days, and journalists made daily trips to Velká Mača. Those who worked with Ján most closely received police protection. The offices of Aktuality, the website where he worked, were heavily guarded.
Within months, the government resigned, including Prime Minister Robert Fico, several ministers, the head of police, and the director of the National Criminal Agency's anti-corruption department. Andruskó, Szabo, Marček, and Zsuzsová were all arrested and are facing various murder charges. No one else is known to have been charged with orchestrating the crimes.
Andruskó's attorney could not be reached for comment; Marcek's said he had no comment, and Zsuzsová and Szabo's lawyers didn't respond to inquiries. The killings remain unfathomable for the Kuciak and Kušnírová families.
Source: OCCRP