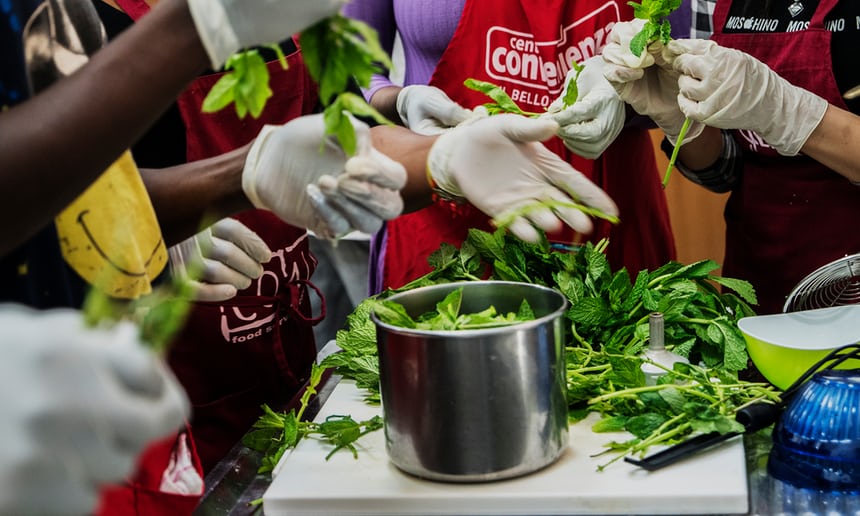 Moltivoti is half-restaurant and half a shared space for NGOs working with migrants, part of the network of Libera, Associations, Names and Numbers. Moltivolti is located at the heart of the Ballarò neighbourhood of Palermo. After being a dilapidated ghetto, increasingly depopulated as families moved to airier suburbs, new arrivals began renting here several years ago, and now the area is an extraordinary mix of mafias, migrants and hip young social entrepreneurs. According to Claudio Arestivo, one of the co-founders of Moltivolti : "We are in the middle here. I feel we are living an experiment."
Shapoor Safari left Kabul in 1996 to finally arrive in Italy in 2002. For 7 years, he travelled the country, from Roma, to Milano, from Torino to Venezia etc. One day, he decided to try for Palermo, Sicily, and his life changed. Almost by coincidence, he found himself working as a cook in the restaurant of the Teatro Massimo for one year, and then continued working from one kitchen to another, never stopping to learn and sharpen his technique. Nowadays, Safari works at the Moltivolti's restaurant. His kitchen team comprises a Sardinian, two Senegalese and an Iraqi. The menu is international: from Sicily, pasta with swordfish and aubergine or broccoli, anchovies and raisins, or artichokes and bottarga; Italian lasagne; hummus from Jordan; tabbouleh from Lebanon; falafel from Palestine; Argentinian sweet potato; Iraqi kebab with pumpkin; and Tunisian brik with tuna. And finally, Moltivolti could be the true face of Sicily.
Click on the link to read the full article in English.