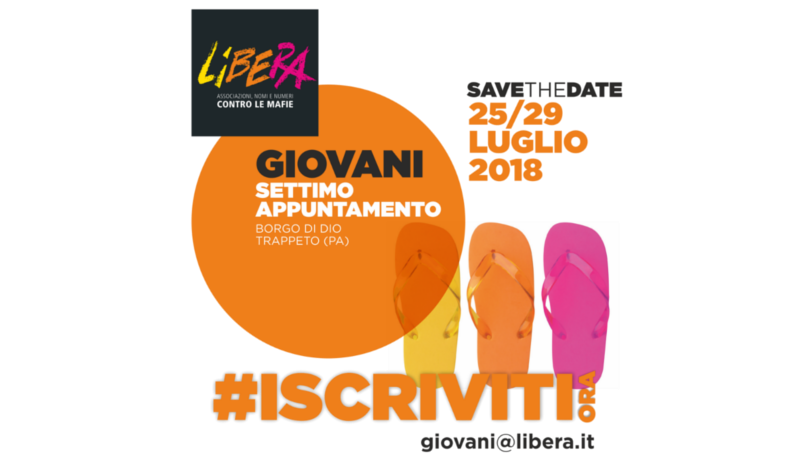 Knowledge is the high road of Change
7th National Youth Rally of Libera from July 25 to 29 in Borgo Di Dio Street – in Trappeto (PA)
Each summer is proposed a national moment addressed to all young people who participate and are part of the Libera network: an opportunity for knowledge, deepening and gathering for youth of our coordination and presidents and in parallel a fundamental stimulus for Libera to reconsider with the eyes of those who animate the associative network in the field. The 7th National Youth Rally of Libera will be held from Wednesday 25 July to Sunday 29. The place chosen for this year is not trivial: Il Borgo di Dio – Trappeto (PA) where lived and operated Danilo Dolci. And in the footsteps of Danilo Dolci and Peppino Impastato we will walk during these days, dreaming of the Libera that we still have to build and from which we will continue to permeate together to free ourselves from mafias and corruption. A gathering thought "for and with young people" as an opportunity, an opportunity for sharing and change. To think how to make Libera together on the territories for five days, Libera faces and regenerates with the hundreds of young people from all regions of Italy, promoters of the first ranks of the Libera who commits and moves.
Through stories and testimonies, we will know and visit more closely a land that carries with it the story of a great movement of social relief and civic engagement. We will go to places of knowledge of Portella della Ginestra in Partanna via Cinisi. The Sicilian spring, the lawsuit on "the talks of the mafia state", the memory as instrument to which the daily action of Libera is welded, they will be some of the pieces that we will touch and assemble during these days, in the aware that knowledge is the main path of change.
It will therefore be a journey into space and time capable of carrying us into a past that wants to question again the action of Libera to project its commitment to the opposition to the Mafia, with even more force and decision. To amplify this reflection, workshops of theatre, music, photography, videomaking and graphic novels will be built to allow us to reconsider and tell with new instruments and languages ​​the mosaic of the world of Libera!
We are waiting for you to rediscover the beauty of this land and our way together!
Info:
Who is it for?
This national gathering is designed for young people all over Italy who collaborate and are active throughout the Libera network who have reached the age of maturity. The possible participation of minors will be studied on a case by case basis.
Structure of the days
The 7th Youth Rally will start on Wednesday 25th at 4pm and finish Sunday 29th after lunch. To facilitate a more economical and convenient travel organization, it will be possible to arrive and settle in the tents of the Borgo di Dio complex from Tuesday 24th afternoon and leave on Monday 30th July.
We remind you that the accommodation must be provided in tents (to be transported by yourself), except for the specific needs to be indicated in the registration link.
The days will be organized around meetings, non-formal workshops, music and shows, with the aim of setting up the commitment to mutual knowledge and comparison, rediscovering the value of the heterogeneity of our network. . The program will be branched around the initiative.
Registration details
To register for the 7th national youth gathering in Libera, request the registration link to your president and your territorial coordinator!
For more information, it is possible to send an email to the following address: giovani@libera.it.
We hope lots of you will come. To fill the present. And look at the future. Together.
French version
La connaissance est la voie royale du changement
7ème Rassemblement Nationale des jeunes de Libera du 25 au 29 Juillet rue Borgo Di Dio – à Trappeto (PA)
Chaque été est proposé un moment national adressé à tous les jeunes qui participent et font partie du réseau de Libera: une occasion de connaissance, d'approfondissement et de rassemblement pour les jeunes de notre coordination et des présidents et en parallèle un stimulus fondamental pour Libera pour se reconsidérer avec les yeux de ceux qui animent le réseau associatif sur le terrain. Le 7ème Rassemblement National des jeunes de Libera se tiendra du mercredi 25 juillet au dimanche 29. Le lieu choisi pour cette année n'est pas anodin: Il Borgo di Dio – Trappeto (PA) où vécut et opéra Danilo Dolci. Et sur les pas de Danilo Dolci et de Peppino Impastato nous marcherons durant ces jours, en rêvant de la Libera que nous devons encore construire et de laquelle nous continuerons à nous imprégner ensemble pour nous libérer des mafias et de la corruption. Un rassemblement pensé "pour et avec les jeunes" comme un opportunité, une occasion de partage et de changement. Pour penser comment faire Libera ensemble sur les territoires pour cinq jours, Libera fait face et regénère avec les centaines de jeunes provenant de toutes les régions d'Italie, promoteurs de premiers rangs de la Libera qui s'engage et bouge.
A travers des histoires et des témoignages, nous connaitrons et visiterons de plus près une terre qui porte avec elle l'histoire d'un grand mouvement de secours social et d'engagement civil. Nous irons dans les lieux de la connaissance de Portella della Ginestra à Partanna en passant par Cinisi. Le printemps sicilien, le procès sur "les pourparlers de l'Etat mafieux", la mémoire comme instrument auquel se soude l'action quotidienne de Libera, ils seront quelques unes des pièces que nous toucherons et assemblerons au cours de ces journées, dans la conscience que la connaissance est la voie principale du changement.
Ce sera donc un voyage dans l'espace et le temps capable de nous porter dans un passé qui veut interroger de nouveau l'action de Libera pour projeter son engagement dans l'opposition à la mafia, avec encore plus de force et de décision. Pour amplifier cette réflexion des ateliers de théâtre, de musique, de photographie, de videomaking et de romans graphiques seront construits pour nous permettre de reconsidérer et raconter avec de nouveaux instruments et langages la mosaïque du monde de Libera!
Nous vous attendons nombreux pour redécouvrir la beauté de cette terre et de notre chemin ensemble!
Info:
A qui cela s'adresse-t-il?
Ce rassemblement national est pensé pour les jeunes dans toute l'Italie qui collaborent et sont actifs dans tout le réseau de Libera qui ont atteint l'âge de la maturité. L'éventuelle participation de mineurs sera étudiée au cas par cas.
Structure des journées
Le 7ème rassemblement des jeunes, commencera mercredi 25 à 16H et terminera le dimanche 29 après le déjeuner. Pour faciliter une organisation plus économique et commode des voyages, il sera possible d'arriver et de s'installer dans les tentes du complexe Borgo di Dio à partir du mardi 24 après-midi et de repartir le lundi 30 juillet.
Nous vous rappelons que le logement doit être prévu  dans des tentes (à transporter par vous-mêmes), sauf pour les besoins spécifiques à indiquer dans le lien d'inscription.
Les journées seront organisées autour de réunions, des ateliers non-formels, de la musique et des spectacles, dans le but de mettre en place l'engagement à la connaissance mutuelle et à la comparaison, redécouvrir la valeur de l'hétérogénéité de notre réseau. Le programme sera ramifié autour de l'initiative.
Modalités d'inscription
Pour s'inscrire au 7ème rassemblement national des jeunes de Libera, demande le lien d'inscription à ton président et ton coordinateur territorial!
Pour plus d'infos, il est possible d'envoyer un mail à l'adresse suivante: giovani@libera.it.
Nous vous attendons nombreux. Pour remplir le présent. Et regarder le futur. Ensemble.