Futuroscopio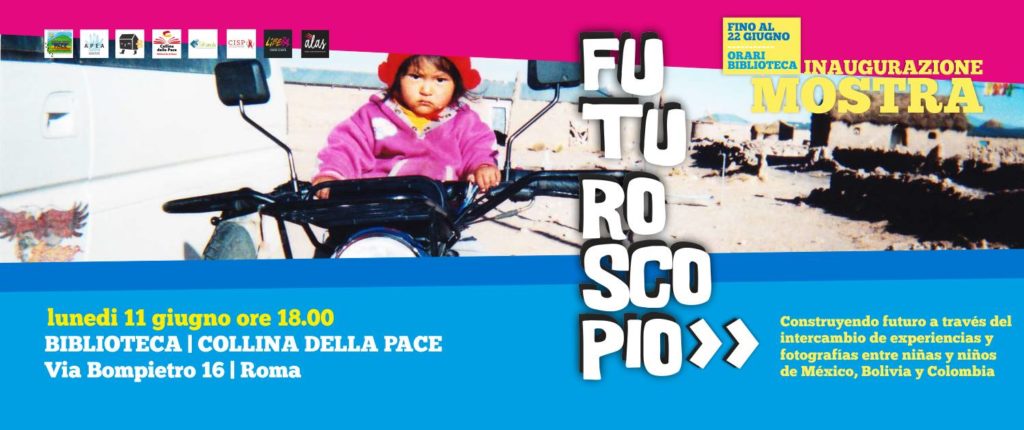 On June the 11th will be held the inauguration of the exhibition of the project involving children from Mexico, Bolivia and Colombia.
FUTUROSCOPIO is a project promoted by three assocation from  RED Alas – one of the international networks promoted by Libera Against Mafias : SiKanda – Solidaridad Internacional Kanda AC, Oaxaca, (Mexico), APEA – Acción Por una Educación Activa, El Alto, (Bolivia) and Casa B, Bogotá, (Colombia).
It creates social ties between children from different cultures by using photography as a tool for narration and communication, giving them a possible language through which they can express themselves and engage with the "other", beyond frontiers.
Children particpating in FUTUROSCOPIO come from different geographical and sociocultural contexts, but face the same difficulties. In the remote and rural Chipaya, in the Oruro region, Bolivia, in the urban context of Barrio Belen in Bogotá, ColomBia, as well as in the suburbs around the open landfill dumps of Oxaca, Mexico, children live in vulnerable conditions, also determined by the absence of adequate expression and participation spaces.
On June the 11th at 18:00 in Rome, at the "Collina della Pace" Library, with the help of the Association Collina della Pace (Via Bompietro 16) will be inaugurated the exhibition  "FUTUROSCOPIO: Construyendo futuro a través del intercambio de experiencias y fotografías entre niñas y niños de México, Bolivia y Colombia"
Will intervene :
José Carlos León Vargas – Solidaridad Internacional Kanda AC – SiKanda, Oaxaca, Mexico
Dario Sendoya – Casa B, Bogotá, Colombia
Maya Koshi – Acción Por una Educación Activa – APEA, El Alto, Bolivia
Claudia Gatti Coordinatrice America Latina – CISP International Committee for Peoples' Development
Will moderate :
Emiliano Cottini – Libera. Associations, Names and Numbers against Mafias

CLICK   H E R E   T O   S E E   T H E   E V E N T 
For more information : international@libera.it