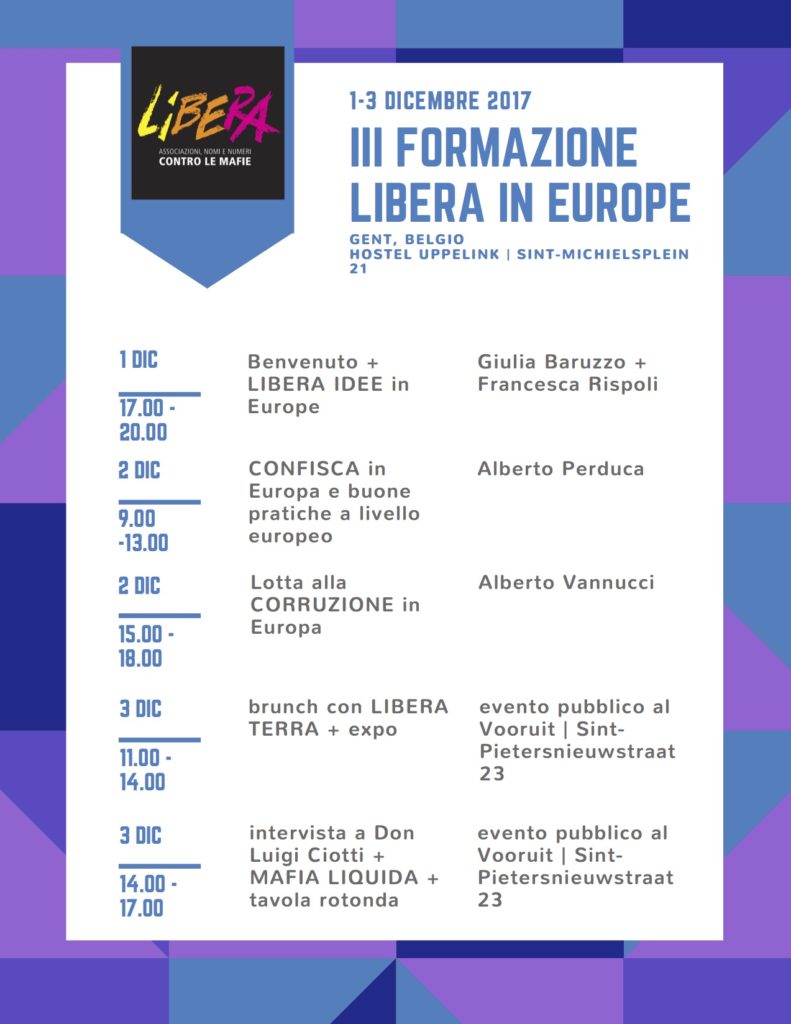 After Paris and Berlin, the network of associations working with Libera at the European level, composed by 20 activists from Belgium, Switzerland, France and United Kingdom, have met for the third time in Gent in the beginning of December. Three days during which we have discussed the project « Libera Idee » in Europe and the agenda for 2018.  Have participated in the collective formation Alberto Perduca, Italian prosecutor, who has talked about the instruments of confiscation at the European level, and Alberto Vannucci, a political sciences professor at the University of Pisa, specialized in criminal organisation and politico-administrative corruption.
Among the most efficient « antimafia » instruments, we can mention the theoretical knowledge of the corruption phenomenon – as by its nature, the object the we want to know and fight is invisible – and the aggression of illicit patrimony through seizure and confiscation. Both are key elements in the fight against organized criminality : the acknowledgement about it has also risen at the European level, as the numerous new legislative instruments show, especially the European directive 2014/42, relative to the freezing and the confiscation of instrumental goods and of the proceeds of crime in the European Union. Regarding the different typologies of confiscation that have been inserted in the directive, there is still a huge question mark when it deals with the use of prevention confiscation – depending in most cases to a good cross-border cooperation  – and the social re-use of the confiscated goods.
Anti-Mafia Talks 
As a conclusion to this week end tainted by the anti-mafia fight, we have participated to a public day called « Anti-Mafia Talks » (around 350 participants), promoted by the Art Center of Vooruit, Libera International and Antico Sapore, with the participation of Don Luigi Ciotti, interviewed by the Belgian journalist Ine Roox. We assisted to « Mafia Liquida », a show realized by the Cinemovel troupe : a luminous chalkboard, digital projectors and music were the instruments used to translate into images everyday stories of mafia bullying. Salvatore di Rosa and Mario Portanova, investigation journalists respectively from Belgium and Italy, along with Giulia Baruzzo from the International sector of Libera, ended the three-days meeting by talking about the never-stopping diffusion of mafias worldwide. Hoping for a more implicated Europe in the fight against organized criminality and standing for a common approach of social antimafia at the European level seems to be even more actual and necessary now.
Find the original article in Italian here.