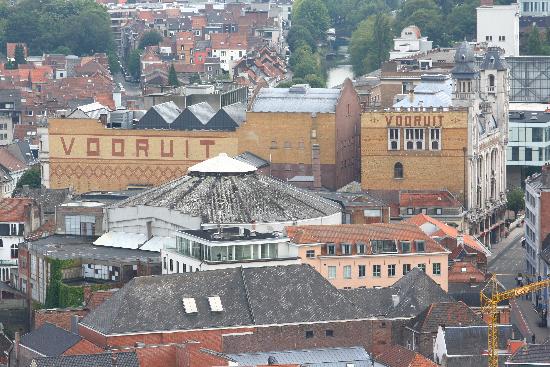 On Sunday 3rd December, the Art Centre "Vooruit" and Antico Sapore are inviting you to the event "ANTI-MAFFIA TALKS", to spend together one afternoon committed to the fight against mafias.
At 14:00h, we will welcome Don Luigi Ciotti, inspirer and founder of LIBERA Associazioni, nomi e numeri contro le mafie. Don Luigi Ciotti will be interviewed by the journalist Ine Roox, author of the book ""L'Italia, il lato oscuro di un paese soleggiato" (Italy, the dark side of the sunny country).
At 15:00h, the moving cinema of Cinemovel, will tell you about "short and long daily stories of mafia oppression, mixing art expressions and languages."
At 16:00, at the end of our day, the researcher Sarah Vantorre will present a round table with the participation of three experts with the aim of analysing the mafia phenomenon currently in Italy, Belgium and Europe.
The investigative journalists Salvatore di Rosa and Mario Portanova, will also take part to the debate, having closely followed the spreading of this mafia phenomenon beyond the Italian borders.
As spokesperson of LIBERA International, Giulia Baruzzo will be amongst our guests to raise awareness about the importance of a widespread anti-mafia culture in Europe and Latin America.
The registrations for "Anti-mafia talks" are now open. For additional information (NL) on the program and on the registrations, please visit the website Vooruit  and subscribe to the dedicated event on Facebook.
FR
Dimanche 3 Décembre, le Centre d'arte Vooruit et Antico Sapore vous invitent à l'evenemment "ANTI-MAFFIA TALKS" pour un moment dédié à la lutte contre la mafia.
À 14:00, on accueillera Don Luigi Ciotti, inspirateur et fondateur de LIBERA, LIBERA Associazioni, nomi e numeri contro le mafie. Don Luigi Ciotti sera interviewé par la journaliste ine Roox, autrice du livre "L'Italia, il lato oscuro di un paese soleggiato" (L'Italie, le côté obscur du pays ensoleillé).
À 15:00, le cinéma itinérant de Cinemovel, vous racontera de "le quotidien de petites et grandes histoires d'oppression de la mafia, avec un mélange d'expressions et langue artistique."
À 16:00, pour terminer notre journée, la chercheuse Sarah Vantorre, présentera une table ronde avec trois experts pour examiner le phénomène de mafia aujourd'hui   en Italie, Belgique et Europe. Les journalistes d'investigation, Salvatore di Rosa et Mario Portanova participeront au débat, ayant suivi la diffusion de mafia au-delà de confines italiens.
En tant que référente de LIBERA International, Giulia Baruzzo sera aussi présente pour promouvoir la diffusion d'une culture anti-mafia en Europe et en Amérique Latine.
Les inscriptions pour le "ANTI-MAFFIA TALKS" sont maintenant ouvertes. Pour information (NL) additionnel sur le programme et les inscriptions, visitez le site du Vooruit et l'évènement Facebook.