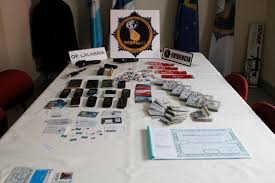 Rocco Morabito, for years considered "Milan's cocaine king", has been captured in Uruguay, report local media sources in Montevideo. He is now facing a 30-year prison sentence for mafia association and drug trafficking. He had been in hiding since 1994
Criminal career
Born in Africo in the province of Reggio Calabria on 13 October 1966, he is nicknamed 'u Tamunga, perhaps after an off-road vehicle. He made a name for himself in Milan in the early 1990's, among the in-crowd at the legendary Biffi café in Piazzale Baracca, in the bars of the Galleria and Piazza Diaz, and even at the city's fruit and vegetable market, all popular haunts for those selling cocaine.
The arrest
Morabito was arrested in a hotel in Montevideo, but lived in the resort of Punta del Este and had a fake Brazilian document under the name of Francisco Capeleto, which he used to obtain a Uruguayan identity card. Morabito had been living in Uruguay for a decade according to the local press, and "was one of the ten most wanted mafia bosses in Italy". He will now be extradited to Italy. Also arrested was an Angolan woman with a Portuguese passport, thought to be Morabito's wife. In the operation that led to the arrest, the Uruguayan police seized 13 mobile phones, a gun, 12 credit cards, cheques made out in dollars and 150 passport photos of the boss.
Compliments from Minniti
Interior minister Marco Minniti congratulated Italy's chief of police, Franco Gabrielli, and the commander general of the Carabinieri, Tullio Del Sette: "The state's fight against organized crime has made another important breakthrough with the arrest of Rocco Morabito at Punta dell'Este in Uruguay. He had been the subject of an international arrest warrant since 1994 and was considered one of Italy's most dangerous fugitives, having already been convicted for organized crime, drug trafficking and other serious offences." Acco
rding to Minniti, the arrest of Morabito, "a prominent figure in the gang that bears his name in Africo Nuovo, and the most wanted 'ndrangheta fugitive", was the result of "excellent international investigative cooperation between the Uruguayan police and the Italian Department of Public Security. The work of their liaison officers, coordinated by the state prosecutor of Reggio Calabria, made it possible to establish the fugitive's true identity".
Read the article in English or in Italian
For more information read the Indipendent