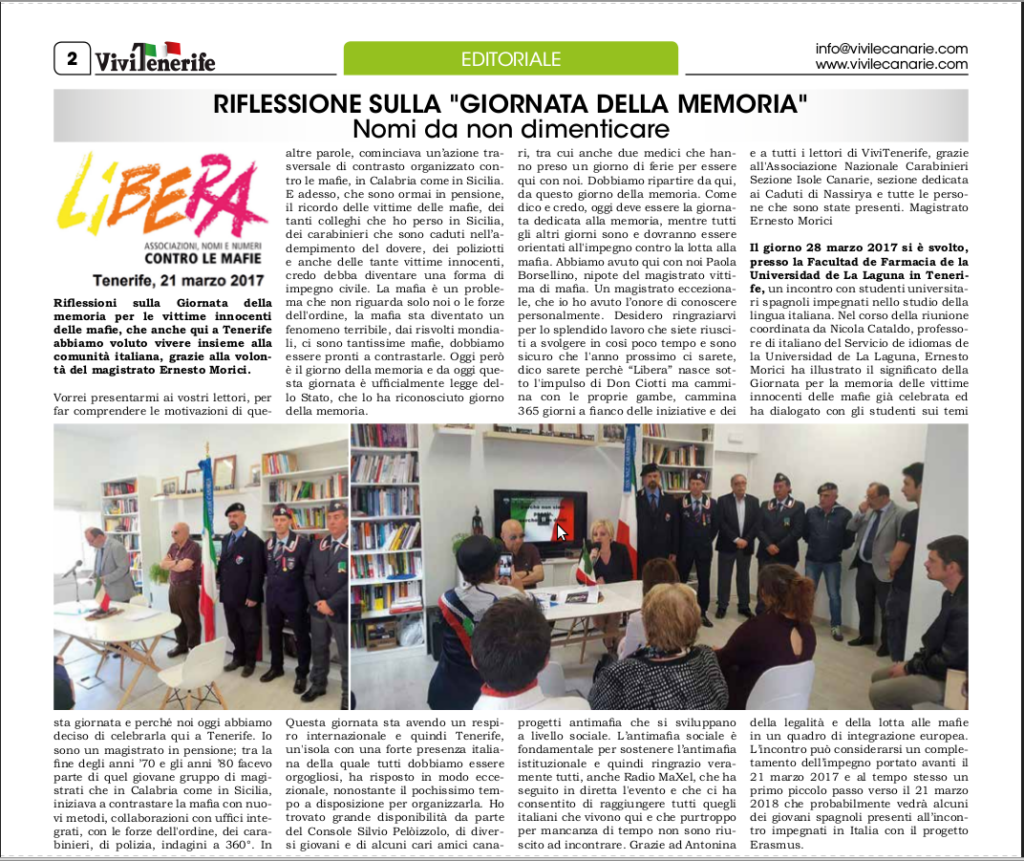 FROM TENERIFE :
March 21st
The Day of Memory and Commitment for mafia innocent victims was celebrated also in Santa Cruz de Tenerife, in the Italian Consulate, to the presence of the Honorary Consul Silvio Pellizzolo. Italian and Spanish friends also intervened. The event was broadcast live by Radiomaxel, thus contributing to a wider participation of the Italian community, thanks to the initiative of Antonina Giacobbe director of "Vivitenerife". The participation of the local section of the National Association of Retired Carabinieri, of Paola Borsellino and of many Italian and Spanish friends made the meeting particularly emotional, especially the reading of innocent victims list. A registry with the names of the victims will be kept in the consulate, with the logo of Libera and the signatures of all participants.
ESP
El día en recuerdo de las víctimas inocentes de la mafia, también se celebró en Santa Cruz de Tenerife, en la sede institucional del Consulado Italiano, a la presencia del Cónsul Honorario Silvio Pellizzolo. También intervinieron amigos de Italia y España. El evento fue transmitido en vivo por Radiomaxel, contribuyendo así a una mayor participación de la comunidad italiana, gracias a la iniciativa de Antonina Giacobbe, directora de "Vivitenerife". La participación de la sección local de la Asociación Nacional de Carabinieri Jubilados, de Paola Borsellino y de muchos amigos italianos y españoles hizo especialmente atractiva la reunión, sobre todo con la lectura de la lista de víctimas inocentes. Un registro con los nombres de las víctimas quedará en la sede del consulado, con el logo de Libera y las firmas de los participantes.
March 28th
On March 28th 2017 a meeting was held in Tenerife with Spanish university students engaged in the study of the Italian language, at the "Facultad de Farmacia de la Universidad de La Laguna".  During the meeting, coordinated by Nicola Cataldo, professor of Italian language of the "Servicio de idiomas de la Universidad de La Laguna", Ernesto Morici explained the significance of that "Day for the Memory of innocent victims of the mafia", celebrated one week before. He held a dialogue with the students on the issues of legality and the fight against the mafia in a framework of European integration. The meeting can be considered a final word on the celebration carried on March  21st 2017 and, at the same time, it is a first small step towards March 21st 2018. Perhaps these same students will have the the opportunity  to participate in the next act during their Erasmus project in Italy.
ESP
El día 28 de marzo de 2017 en Tenerife se celebró un encuentro con estudiantes universitarios españoles dedicados al estudio de lengua italiana, en la Facultad de Farmacia de la Universidad de La Laguna. Durante el encuentro, coordenado por Nicola Cataldo, profesor de Italiano del Servicio de Idiomas de la Universidad de La Laguna, Ernesto Morici explicó el significado del "Día de la Memoria y del Compromiso para las víctimas inocentes de la mafia" y llevó a cabo un diálogo con los estudiantes sobre legalidad y lucha contra la mafia en el marco de la integración europea. La reunión puede considerarse una conclusión de la celebración realizada el 21 de marzo 2017 y al mismo tiempo, un primer pequeño paso hacia el día 21 de marzo de 2018. Tal vez estos mismos estudiantes tendrán oportunidad de participar en el próximo acto durante su proyecto Erasmus en Italia.
FROM BERLIN :
The 21st of March in Berlin: Brandenburger Gate comes together against the mafia.
This year for the first time, the 21st of March, the National Day of Remembrance for the Innocent Victims of the Mafia, has been celebrated in Berlin at the Brandenburg Gate, one of the main landmarks of the German capital.
The participants to the event have joined all the voices that came together from all over the world in remembering the victims of the violence perpetrated by the mafia. This European coming together in occasion of the 21st of March is a strong signal for and by Europe, which finally witnesses the development of an antimafia network that manages to overcome the Italian borders and engages more and more on an international level. It is indeed a necessary act for an antimafia network and resistance to organize transnationally to respond to a criminal phenomenon that has been international for decades.
The initiative was organized by the association Mafia? Nein, danke! e.V., already a partner of Libera within the framework of numerous projects and events. A short speech in Italian and German has preceded the public reading of the names of the innocent victims. Dozens of people, both Germans and Italians, have joined in reading the names. The very central location of the event, the Brandenburger Gate, made it possible for a number of passersby to stop and ask for more information about the event; amongst them, there were also some active and curious Italian classes on their school trip in Berlin.
The public reading was moving and poignant: breaking the flow of the names, some of the stories of the victims were also read out loud. Like that of Giuseppe Letizia, killed when he was only 13 years old, because he was a witness of the murder of Placido Rizzotto; or that of Francesco Imposimato, murdered in 1983 as an intimidation to his brother, who was a judge; or that of Lea Garofalo, killed by her ex husband, with whom she also had a daughter, because she was a pentita of 'ndrangheta.
The event received the precious support of the Italian Embassy in Berlin. The Italian broadcasting company RAI was also there, as well as some local media. We particularly wish to thank Berlino Magazine, il Mitte, Berlin24 Network, the blog Italiani a Berlino and Radio Colonia who also promoted the event.
This year was also particularly important with regards to the 21st of March, as the Italian Chamber of Deputies has finally institutionalized the event, officially making it a National Day. The Day of Remembrance for the Innocent Victims of the Mafia has been celebrated every year since 1996, thanks to Libera and Avviso Pubblico, together with the families of the victims. The unanimous approval of the Chamber of Deputies recognizes the importance of collective memory as an essential element to counter together new and old mafias all over Europe.
FROM SWITZERLAND :
An opportunity to think about the importance of civil society, individuals and small groups who can concretely act for public interest
A Swiss teacher of Italian, particularly sensitive to the topic of mafias, a priest who tries his best to raise youth awareness and the president of a little association – Amici di Libera in Svizzera. These were the premises for the organization of a set of public meetings with students in French Switzerland schools, from 20th and 24th March 2017. Seven events and almost 800 students involved.
Teaching Italian as a foreign language means also talking about the fight against mafias, through novels, songs, films, articles, reportages, thus avoiding the stereotyped image of mafia, as the one presented in Il padrino. Hearing the stories of people engaged in their territories, as Fabrice Rizzoli and Domenico Fazzari, has been a deep emotional moment for our students, who were strongly impressed by the courage and the efforts of Domenico Fazzari and the other members of Cooperativa Valle del Marro. They try to give back dignity and beautyness to their homeland everyday by creating healthy and good products, in the full respect of nature and workers. Students also understood that they can engage too, from Switzerland, by participating to E!State Liberi camps or buying good, healthy and fair products.
After hearing those stories of resistance, some students said they are proud of their grandparents' homeland, which was a very touching moment. Switzerland is a country of immigration and in our classes there are also children and grandchildren of those people who had to leave their land to build a better future somewhere else. For them, it is also important to know their own family's story, in order to become adults and enjoy two cultures.
These conferences let us, here in Switzerland, create links with all those brave people who show the right way to fight mafias and create entreprises.
New perspectives are now open for the future: realize new travel projects in the lands freed from mafia, elaborate new teaching material to spread even more antimafia commitment, show other stories of people from the South who resists and innovates, and finally demand, here too, a law allowing the social reuse of confiscated assets.
Dominique Wittwer, 31.3.2017,
teacher of Italian in Lausanne (Gymnase de Beaulieu)