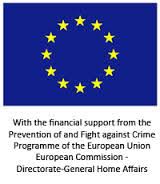 Witnesses are often valuable not only for surveys, but because they represent the society's healthy tissue attacked by violence of organized crime and therefore they play a crucial role to combat and prevent crime in the medium and long term starting from the complaint that breaks the circle of silence and violence. The situation lived by mafia victims and justice witnesses, some of which are included in official programs of protection because of mafia violence, involves both threats to the physical safety and damages to social functioning and intense psychological suffering (with some characteristics of PTSD).
Libera therefore intends to integrate, where existing, safety measures for police organs in charge of their physical protection though psychosocial interventions and relational support and deals with those "sub threshold" cases that do not fit in the leakage protection programs or exited, but that are still living situations of risk with deep discomfort and danger. The constructive cooperation with the institutions and the police forces responsible for the protection, the reference to the practice of nonviolent accompaniments proven in other countries in conflict, the use of Web performance with public events and the interventions in schools represent a new and effective practice of protection through visibility, support and awareness.
Nowadays in Italy the applicable legislation for witnesses of justice is the law 45 approved on the 13th February 2001. Until then the figure of the witness of justice was merged in the name of collaborator. The difference between the two figures is fundamental, as the witness of justice is the person who, as of the word, witnesses a crime, but it is also out of the Mafioso system or was victim of violence and decides to report it. On the other hand, the collaborator of justice is that person who committed crimes, was in the system and decides to co-operate with the justice system. Once they start co-operating and release their statements in order to help with the investigations, these people are often inserted into a programme of protection, as their lives are deeply in danger of potential revenge from criminal organization.
The Law n. 45 approved the 13th of February 2001 adapted the regulation of collaborator of justice – Decree of Law n. 8 approved the 15th of January of 1991 – to witness of crime. In the specific, it introduces the definition of witness of crime, comparing them with collaborator of justice and defining the differences between those.
Page 12-14 (ITA)
Download the official pubblication
HOME/2011/ISEC/AG/4000003701 LIFEJACKET: psycosocial protection and support of witness and victims of mafia