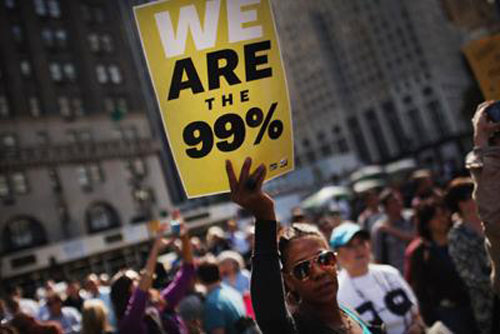 On the occasion of the World Economic Forum Annual Meeting in Davos, Oxfam published a report where it shows the worrisome wealth gap, wider than ever. The report says eight people in the world own as much wealth as the poorest half of the world's population, among them Microsoft's Bill Gates and Facebook's Mark Zuckerberg. One of the 100 biggest quoted enterprises's managing director in London earns in a year as much as 10,000 people working in garment factories in Bangladesh. The richest man in Vietnam earns in a day as much as the poorest person in ten years. These are not mere statistics, but they cry out instead injustice and world inequalities.
This alarming tendency has many negative effects, as the growing resentment towards elites which contributed to the upsurge of populist politics. The same concerns about the corrosive effects of this wealth gap are highlighted as well in the WEF's global risk report.
Multinational corporations and mighty, with no scruple on maximizing profit by squeezing down labour costs, cumulate capital and feed inequalities through tax evasion, clientelism, investments in tax havens, sophisticated corruption systems supported by complicit politicians.The current economic system fosters the accumulation of wealth in the hands of a privileged elite to the detriment of the poorest, in particular women.
In the same report, experts indentify eight relevant steps to be taken to invert this tendency in order to create a human economy. These demands have become a campaign named "An economy for the 99%".
Sources:
http://www.internazionale.it/notizie/2017/01/16/otto-uomini-ricchezza-oxfam
http://www.mosaicodipace.it/mosaico/a/43970.html
http://news.trust.org/item/20170116082209-npzw4/
file:///home/giulka/Scaricati/bp-economy-for-99-percent-160117-summ-en.pdf