Get Involved
Join us
We need everyone because we are convinced that the will, the determination and the force to lead and win this struggle.
I-LAB
The "International LAB" is an important means for engaging and coordinating all the people that belong to Libera and are interested in contributing to this sector, because they had experiences abroad or because they had a work and didactic background in international sphere.
Newsletter
The LIBERA International newsletter provides information on new releases, upcoming events and initiatives not covered in mainstream mass medias: featuring legality, justice, and commitment to world civilisation.
E!STATE LIBERI WORKCAMPS
The purpose of this network is the promotion of a global anti-mafia and social justice culture, which is the principal tool to fight all levels of the mafia.
THEMATIC FOCUS
Narcotraffic
Corruption and whistleblowing
Smuggling and human being trafficking
Illegal economy and organised crime
Confiscated assets
Memory and victims support
Education and social prevention
Social antimafia and human rights
Blog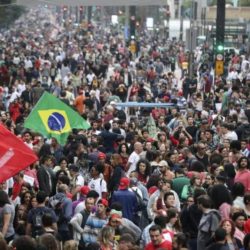 Arrests, shoot-outs against workers and students, threats, repercussions on the political affiliations, suspension of the human rights and the guarantees. In a violent silence from politics and the western media, Brazil relives the signs of a past that frightens. We receive and we publish the article of Dario de Sousa and Silva Filho – sociologist and[…]
Condor Case: The judicial hearing that took place on November 11th concerned civil parties' last requests.
Mr Angelo Paolo Sodani, Cristina Mihura's lawyer, explained their final requests about the case of Bernardo Arnone, an Italian-Uruguayan man who disappeared, as many other people in some Latin-America States, due to the Condor Operation. The lawyer focused on some important points: demonstrating the existence of Cóndor Plan, demonstrating Arnone' kidnapping and murdering and demonstrating defendants' culpability.
Previous
Next